As mentioned in a previous post, our table tops at Bellflower were constructed from wood reclaimed from the home of Ypsilanti Civil War veteran George Cady, the owner of Cady's Saloon in Depot Town. Well, not too long ago, I talked with the man who made those tables, Chris Behm. Chris is the co-founder of the End Grain Woodworking Company. Started in 2011, the End Grain Woodworking Company is dedicated to finding creative ways to repurpose the old-growth lumber of our ancestors, keeping old growth wood out of our landfills, and reducing our need for living trees to be cut down and processed. Here, because we thought that you might find it of interest, is my conversation with Chris about working with Ypsilanti wood, the history of the End Grain Woodworking Company, and the future of upcycling.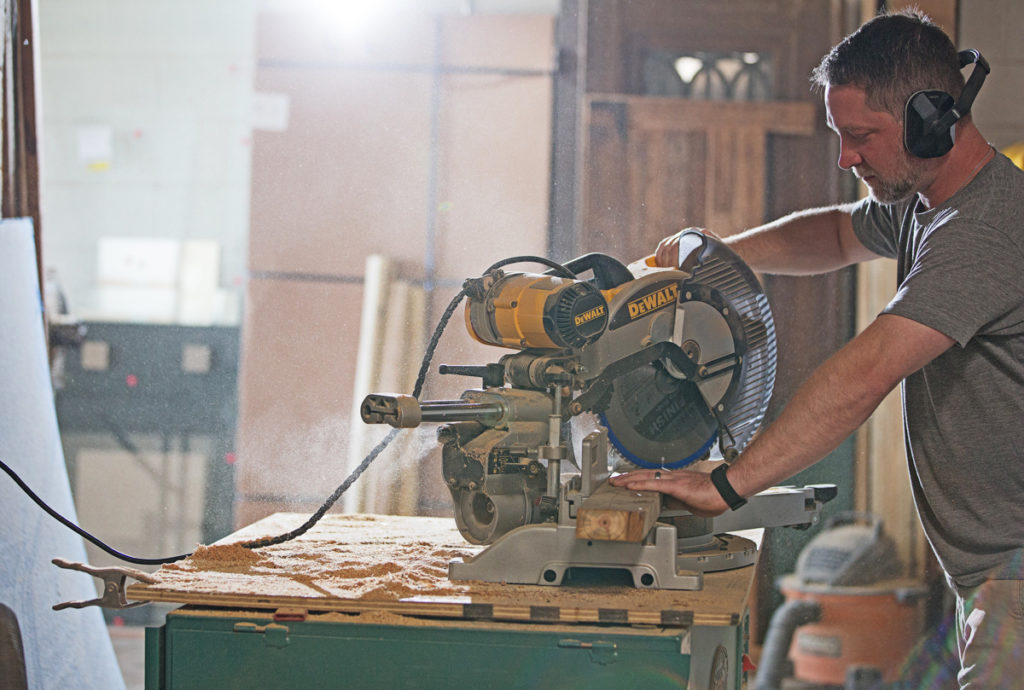 MARK: So, let's start with you, Chris. Where'd you grow up, and when did you get your first saw?
CHRIS: I grew up in and around Livonia, Michigan. I purchased my first "real" saw in 2012 with prize money that I won in the Detroit Re-Nailed competition. It was a contest that asked people to create something using reclaimed wood from deconstructed properties in Detroit. I made a chess board and it took Best in Show. 
MARK: This is the first that I've heard of the Re-Nailed competition. Do you know the history as to how it came about?
CHRIS: Detroit Re-Nailed took place in February of 2012. It was the result of a collaboration between several businesses and community organizations who were hoping to develop a sustainable plan for the emerging "deconstruction industry" in Metro Detroit. The wood used in this pilot program, Re-Nalied Detroit, came from a house in Hamtramck that was built in 1912.
MARK: So, they just invited people out to the site of the house, asked them to take what they wanted, and come back with something awesome? If so, that's a pretty cool idea… and I wonder why it's not done more often.
CHRIS: Not exactly. We picked up the wood from a warehouse on Bellevue St. in Detroit… Oddly enough, it's the same building that Architectural Salvage Warehouse of Detroit currently calls home… The wood was deconstructed and denailed prior to our arrival.
MARK: What made you enter the competition? Would I be right to assume that you were making things already?
CHRIS: It was a happy coincidence that came about almost simultaneously . We had a pretty basic concept, and met a few times prior to learning about the competition. I think we produced a prototype or two but it was very limited.
MARK: I should have asked earlier, but when you say "we" here, I assume you're talking about your partner, Sam Constantine, right? How'd you come to know Sam?
CHRIS: Yes, Sam is the other half of "we." We met through mutual friends back in 2005. He approached me with the idea of making picture frames to house some photographs he'd taken of cool Detroit settings. I said I could make some frames. Then I heard about the competition, and decided to enter, just to see whether or not there might be a market.
MARK: So, at the outset, you weren't necessarily thinking about using reclaimed wood for these frames that you were making?
CHRIS: No, but, as it turned out, reclaimed wood makes really nice looking picture frames.
MARK: But you decided to enter the competition with a chess board, and not a picture frame? Or did you enter a lot of different things?
CHRIS: I didn't think the picture frames had enough wow factor to win the prize money, and I wanted to test my skills. I think we brought a few picture frames as other examples of what could be done with the wood, and I believe we even sold one at the event.
MARK: And the public response was good?
CHRIS: Yeah. The response we received from the competition was incredible, we spent the prize money on tools, and we haven't stopped since.
MARK: So, what were you doing for a living before starting up the End Grain Woodworking Company?
CHRIS: Before we started the company, I was a glazier. My father has owned a glass company my whole life, and I started working for him at an early age. I couldn't have been more than 10 years old when I started. He would bring me in on the weekends to wash trucks… I grew up around a lot of different trades, though, and not just here in Michigan. I jumped around a bit after high school, with stints in California and Missouri, but I finally settled back in Livonia, doing glass work.
MARK: So what would you say was the primary impetus behind the launch of the End Grain Woodworking Company?
CHRIS: Our company grew out of the idea that we wanted to create cool things while also saving as much old growth wood as we could. We hated seeing all of this perfectly good lumber getting demolished. The number of properties that are slated to be demolished in Detroit is staggering, and all of that perfectly good wood is getting chucked into landfills. We thought we might be able to stop some of that from happening if we could design and make things that would sell.
MARK: It's cool that you can trace it all back to the De-Nailed competition, which got you thinking about adaptive reuse of historic building materials. I wonder if anyone else who entered that competition is still at it.
CHRIS: We aren't in touch with any other people who entered that competition but we have kept in touch with some of the players that surrounded the event.
MARK: And you started small, with picture frames.
CHRIS: Yeah, Sam and I were both working full-time when we set up shop in my garage, so we started with small stuff, like picture frames and candle holders. It then quickly grew into larger pieces, and then much larger projects.
MARK: So, how'd it go at the beginning? Were people buying the picture frames and candle holders?
CHRIS: The response was overwhelmingly positive from the very beginning. People really seemed to like what we were doing. Right from the beginning, we've been including the address from where the wood was sourced on each of our products, and I think that's helped people to connect with the work, and appreciate the overall concept of what we're doing. The story telling part is important, like in your case, with the wood from George Cady's home in Ypsilanti.
MARK: We live in a time of mass production and planned obsolescence. It's good, on occasion, to interact with something more rooted in history, something that reminds you of the existence of both time and history. It puts things in perspective, I think, to sit down and have dinner, for instance, at a table made from old-growth Michigan timber salvaged from the former home of an Ypsilanti saloon owner and Civil War veteran. I mean, Ikea is convenient, but there's something powerful about that.
CHRIS: I totally agree. Knowing that this wood has already served its original purpose as the structure of a building and is being given a second chance as a table to share a meal means a lot to us as well as what seems like a growing piece of the population. That said, I personally own some great stuff from Ikea.
MARK: Back to those initial picture frames and candle holders, where were you selling at that point?
CHRIS: At first, we began to sell small quantities of items on consignment at local stores like City Bird and Socra Tea. Then we started doing weekend markets. Our first was the 2012 DIY Street Fair in Ferndale. The exposure was great, and we enjoyed interacting with the general public. And it was this that allowed us to score some custom commissions and expand our product line.
MARK: So, how long were you making candle holders and picture frames, and what made you decide to start branching out, and doing other work?
CHRIS: We never stopped making picture frames and candle holders. When we have the time, we still push out the occasional batch. As for when we started branching out beyond those first items, though, it just happened organically. Orders started coming in for bed frames, mantles, coffee tables, end tables, kitchen tables, barn doors, and wall installations, just to name a few. We didn't plan it out. We were just happy that people wanted our stuff in their homes.
MARK: What's the most gratifying work you've been doing these days?
CHRIS: Seeing the bigger jobs come together is pretty gratifying. So is having past clients call you back for additional work. We did a lot of work in The Bar Method in Detroit. It's a really cool workout studio. We worked closely with the owners, and, after the studio opened, we were called back to design and produce a dining room table for their home.
MARK: I'm guessing the word "upcycling" probably existed before you started the End Grain Woodworking Company in 2011, but, if it did, I don't recall ever having heard it. And now it's pretty ubiquitous…
CHRIS: I don't recall the first time I heard the term "upcycling" used, but, yeah, it's been buzzing around a lot more as of late.
MARK: Are you seeing a lot more folks getting into the space these days, people trying to find ways to employ adaptive reuse when it comes to buildings and homes being taken down here in southeast Michigan? Are there, for instance, people harvesting brick, glass and concrete?
CHRIS: I think that harvesting and reusing building materials has grown some as of late, but there's still a long way to go. I don't think the practices employed by our local deconstruction experts really offer a viable alternative to deconstruction at this time, which is a shame, given the amount of blight in our immediate surroundings. We built our business around the availability of reclaimed wood, and it's getting harder and harder to come by. There doesn't seem to be a strong market for it like there is in other parts of the country.
MARK: Yeah, it's probably always going to be less expensive to just do a tear-down, and cart off everything to the dump. But I know that, in some places, they're pursuing legislative solutions in an attempt to cut down on the 500 million tons of demolition waste we send to the landfill each year. In California, for instance, they've passed the CalGreen Building Code, which encourages developers to reuse materials. Do things like that exist here in Michigan? Are developers incentivized to work with companies like yours to ensure that materials are reused when possible? And, if not, are you aware of conversations taking place about such things?
CHRIS: Seeing contractors being incentivized for reusing building materials, or even seeking out companies that use reclaimed materials, has not been our experience in the Detroit area. It's sad because it seems so easy to say, "Let's not just tear these structures down and throw the materials away." Unfortunately, the deconstruction has to be proven financially viable, and that hasn't been what we've witnessed, at least so far… I think I heard that Ann Arbor passed a law encouraging reuse, but I'm not sure about the specifics behind it.
MARK: Since we started talking a few months ago, I've been reading up on adaptive reuse, and I guess maybe it's obvious to most folks, but it hadn't really occurred to me that much of what homes are built from today probably can't ever have a second life, like the pre-WWII structures you're working with today. It's pretty much preordained, because of the cheaper materials, fire retardants and chemical-based glues that we're using now, that everything will eventually have to go to the landfill… I happened across this quote from Kent Wilson, an R&D Design Specialist at the University of California, Berkeley's Jacobs Institute for Design Innovation. "What we're suffering from in the building industry is not necessarily planned obsolescence, it's just garbage," he said. "We're talking about baseboards that are made out of fiberboard and plastics that are just not reusable."
CHRIS: I totally agree. The reclaimed materials we typically work with are completely different than the materials being used in the majority of construction projects today. The character of the old wood is something that isn't going to be found at your local big box store.
MARK: So, how are things going so far with this wood of George Cady's?
CHRIS: George definitely came through with some good wood for us! The majority of our everyday inventory is reclaimed from Detroit addresses, so I was excited to see something from Ypsilanti. It did not disappoint. It looks like some pieces got chewed up by an animal at some point, and there are some splits that we'll have to navigate around, but, all in all, I'm happy to have it, and I'm looking forward to milling it up.
MARK: So let's talk about these tables that you're making for us. Can you walk us through the construction process?
CHRIS: I really can't wait to dive into this project! We've been in production mode with tap handles, pet urns, and gift boxes for the past month and breaking away into something a little bigger will be a nice switchup. Without getting too specific with regard to sizes, I'll start at the miter saw and get things a bit more manageable. Next, is the jointer to square up two sides and then to the planer to get the thicknesses close. I'll rip away the last edge at the table saw and sort the boards for the glue ups. Each table will be glued up in two large sections and then run through the planer again before finally gluing them together. After they get trimmed to their final lengths, all holes, knots and imperfections are filled with epoxy for stability. Then off to sanding. We'll start on the drum sander moving from 80 to 150 grit then finishing things off with a random orbital hand sander. Stain and finish are the final steps. Like I said, I can't wait!
MARK: What's your best wood score to date?
CHRIS: It's crazy how many people contact us about selling their old wood/doors/windows but there are a few that stick out as really great hauls. We were fortunate enough to get quite a bit of the wood from the Hazel Park Raceway stables when they were demolished last year. It's really great material, and the history is super evident. There's random horse hairs still embedded in places, and obvious chew marks all over the place. And a few years back, I found some really nice antique 2x12x12 on Craigslist. They were pulled out of a liquor store during a remodel and kept in a garage for like 20 years. The guy basically just wanted them gone!
MARK: So, is that how you find most of your wood? Do you rely on Craigslist and word of mouth? Is none of your wood coming from developers, or the deconstruction firms hired to take down structures in Detroit?
CHRIS: My score on Craigslist was a fluke. That's the only time we've ever got wood there. It's been our experience that the demolition companies would rather not waste the time and resources to salvage materials on any sort of scale. The liability concerns and financial loss is not worth it. We used to purchase our materials from a few different companies that deconstructed buildings, but that has begun to dry up. To my knowledge, only ASWD still deconstructs and markets the reclaimed materials.
MARK: So now it's all word of mouth… just people turning you onto things, the say way I introduced you to Barry LaRue here in Ypsi to talk about the wood from George Cady's house?
CHRIS: Well, word of mouth is a lot of it. I recently received an email from a buddy I hadn't spoken to in 15 years with a lead on some bleacher wood that worked out great! He knew I was doing work with reclaimed materials and heard about a gym renovation at West Bloomfield High School. He connected the dots and we scored some really nice stuff. We are always open to acquiring quality reclaimed materials.
MARK: Are there new directions that you're moving in that look promising? You mentioned that reclaimed wood is getting more difficult to come by, but are there new opportunities that you're seeing on the horizon? Given your history as a glazier, for instance, have you ever thought of branching out into glass?
CHRIS: While glass comes into play here and there, I think we've got a pretty good thing going with wood and keeping it going depends on the availability of reclaimed materials. It sounds insane with all the blighted buildings in our immediate proximity that this may be an issue. The truth is, as of now, it's not impossible to acquire but I do see the trend of it getting harder to come by. We've begun exploring other avenues to obtain it and feel confident we're headed in the right direction.