Our dinner menu is currently on hiatus. Sign up for our email updates and we will you let you know when it's back! In the meantime, please enjoy our lunch counter menu, rotating specials, wine and cocktails  — all available to go. daily from 11- 7 pm.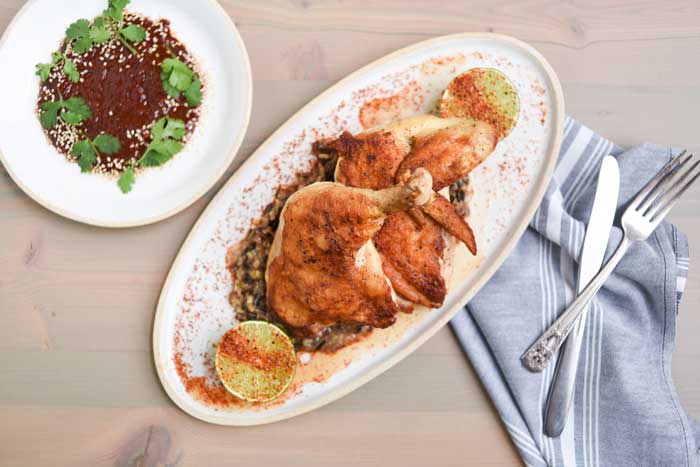 biscuits two angel biscuits, honey butter | 5
bread & butter milk bread loaf, plugra butter | 4
white rice | 3
red beans & rice (v, gf) michigan beans & black-eyed peas, maitake mushroom, rice | 8
gumbo (gf) beef shank, pork belly, cabbage, collards, rice | 9
collard greens (v, gf) argus farm stop collards, calvados brandy, onions, butter | 6
pepperoni roll milk bread loaf, pepperoni, pepperoni dukes mayo | 7
ginger beets (v, gf) argus farm stop beets, ginger ale | 5
squash (v, gf) local roasted & seared honeynut squash, butter, black pepper | 5
aloo gobi vegetables (v, gf) cauliflower, potato, butter, spices | 7
tamarind carrots (v, gf) roasted carrots, tamarind maple glaze | 5
wedge salad (v, gf) blue cheese, red onion, carrots, beets, walnut vinaigrette | 9
fish cakes hot smoked salmon & whitefish, scallion, biscuit crumbs, olive mayo | 14
pork & peas black-eyed peas, tomato gravy, braised pork | 15
salt & pepper ribs pan-fried baby back ribs, potato salad | 18
scallops & gravy* calvados scallop gravy, bay & sea scallops, biscuit | 21
roast duck roasted Culver duck with duck stock braised cabbage |18
apple cobbler (v) roasted apple, biscuit topping, tamarind whipped cream | 7
stilton & apples (v) baked winesap apples, blue cheese, honey, milk bread | 11
***
v = vegetarian gf = gluten free
Please let us know if you have dietary restrictions.
*ask us about menu items that are cooked to order or served raw.
Consuming raw or undercooked meats, poultry, seafood, shellfish, or eggs may increase your risk of foodborne illness.