We knew, from the moment that we started working on this project, that we wanted to have our tabletops made by the folks at End Grain Detroit, as we really liked the work they'd been doing to reclaim and reuse historic wood in Southeast Michigan. Unfortunately, though, while they had a lot of beautiful, historic wood in stock as we were getting construction underway at Bellflower, none of it really resonated with us. At some point, though, it occurred to us that maybe we could supply the wood ourselves. And that's when I reached out to former Ypsilanti City Council Member Barry LaRue, who I knew was doing some pretty extensive rehab work inside Highland Cemetary's Starkweather Chapel. My hope was that, maybe, in doing those renovations, LaRue might have had to remove a hundred feet or so of the original wood. Well, as it turns out, there wasn't anything to be had from the Starkweather Chapel, but he had something even better for us… Here's my discussion with him from early 2020, before we'd opened.
MARK: OK, Barry, can you let everyone know… When they come and visit the Bellflower, whose house will they be eating on?
BARRY: The wood your tabletops are being made from was taken from the home of Ypsilanti Civil War veteran George Cady, one of the earliest owners of what's now 302 Oak Street… Back then it was 14 Oak Street. Street numbers changed in the late 1890s or so.
MARK: And where, within the home, did this wood come from exactly?
BARRY: The pieces of wood that I gave you to make the tables from had been rafters in the single-story addition that was added to the home. Based on the basement and foundation walls, I think the addition was probably added around 1870. The original house was built in 1858.
MARK: Would this be the same George Cady who, back in the late 1800's, operated Cady's Saloon in Depot Town?
BARRY: Yes. Cady's Saloon was located at 52 East Cross, which has since become a part of Sidetrack. The second floor contained the Lewis Horse Exchange, which was a betting parlor. The third floor, as I understand it, was a brothel… or, as local historian James Mann likes to say "a house of negotiable affection."
MARK: Is there any historical record of what it was like at Cady's Saloon? Do photos or journal entries exist?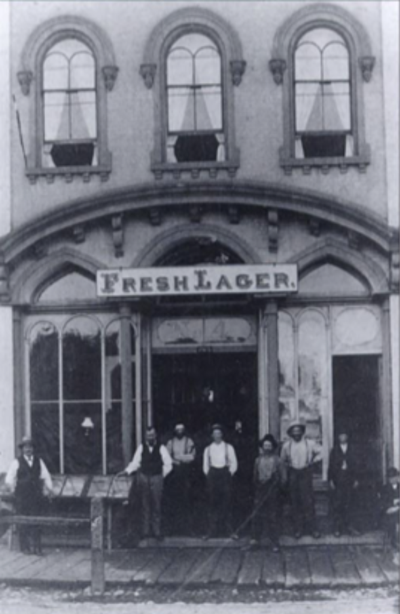 BARRY: James Mann, in his book Ypsilanti, A History in Pictures, which contains this photo, states that George Cady had an unsavory reputation. I'm not sure where he got that information from. The unsavory part may have been related to the presence of the operations on the second and third floors. You've got to remember that the anti-saloon sentiment was rising in the early part of the 20th century. The Methodists in particular were very anti-liquor, and they held a lot of sway. I've got to believe the Roman Catholics and the Lutherans weren't too happy about prohibitionists. In any event, I suspect Mr. Cady wasn't on the invite list of the movers and shakers of Ypsi.
MARK: Did Cady own the building, or have an ownership stake in either the betting parlor, or the brothel, in addition to the Saloon? Do we know?
BARRY: I don't know if he ever owned the building. As for having a role in either of the other businesses I mentioned, I doubt it, but I don't really know the financial details. Warren Lewis was the owner of the betting parlor, and, truth to tell, it didn't exist at the same time as Cady's Saloon. The Lewis Horse Exchange operated in the first few years of the 20th century, and was forced to close by the City in 1911. As far as the brothel goes, I don't know much. Tom Dodd claimed it was Ma Bush's house of ill fame. That could have just been his salty sense of humor, though. She is listed in a directory as Mrs. Mary E. Bush, though.
MARK: OK, I have no idea what it would consist of, but I think we need a drink called the Ma Bush on our menu. I'll have to add that to the list… Back to Cady, what, if anything, do we know about his Civil War service? Do we know where he fought?
BARRY: The war records list several George Cadys, and even more than one George W. Cady, so I'm not sure of the specifics. He is likely to have served in the 9th or 10th infantry of the Michigan Volunteers, though.
MARK: Do we know how Cady came to be in Ypsi in the first place?
BARRY: There is conflicting data. Most sources say that he was born in Oneida, New York in 1829. His father was listed in Ypsilanti in the 1840 census.
MARK: So his family was part of the big influx into Ypsilanti from New York State in the late 1830's that also brought the Wiard's, and other prominent families.
BARRY: Must've been. That's pretty much where my Michigan ancestors were from. Many started arriving in the Michigan Territory in the early 1820s, prior to Ypsilanti's founding in 1825.
MARK: OK, so we can assume that George Cady was here by the time he was about 11, and spent some time in Ypsi before shipping off to fight… Actually, it would have been quite a while. If my math is right, he would have been about 36 at the outset of the Civil War.
BARRY: He's listed as age 38 in a census of those in the union military in 1863.
MARK: Do we know when Cady died, or the circumstances of his death?
BARRY: He died in 1911 of "old age" according to his death certificate. It listed his occupation as "retired carpenter." His Oak Street home, where this wood came from, was sold to a fellow who worked at Michigan Ladder after his death.
MARK: So, is it just a coincidence that he died at right around the same time that the city was shutting down the Lewis Horse Exchange, in 1911? Maybe I'm reading too much into it, but I'm imagining his heart giving out during a protracted fight with leaders attempting to clean up Depot Town.
BARRY: Well, that would make a good story in the age of fake news!
MARK: OK, so help me think this through… You say that Cady died in 1911, and that Lewis Horse Exchange was forced to close that same year, right? But you say that Cady's Saloon wasn't in operation while Lewis Horse Exchange was in operation. So we can assume that Cady didn't operate the Saloon right up to the end, right? Do we know when the Saloon closed?
BARRY: From what I can tell, Cady's Saloon ceased operation around 1895.
MARK: Do we know when the Saloon opened? Was Cady in business prior to shipping off to fight during the Civil War?
BARRY: I'm not sure. I don't have City directories going back that far.
MARK: One more Saloon-related question. You mentioned to me earlier that, according to a newspaper obituary from 1881, Cady's father-in-law died after working a shift at the Saloon. He'd been serving drinks, walked home for dinner, and, on his way back to the Saloon, as you told me, he collapsed of "apoplexy" and was dead before he hit the sidewalk.
BARRY: That's right. And I surmise that George's wife inherited some money after his death, as, shortly thereafter, she and George completely remodeled their house in the Italianate style.
MARK: Do you know if Cady built the house for his family in '58, or did he purchase it later?
BARRY: I'm not sure. All I know is that the house started out life as a small one-and-half story affair with a lean-to kitchen area in the back. I don't really know whether the present kitchen portion was added before or after George's father-in-law died in 1881, when the roof was raised and the Italianate detailing was added.
MARK: If he was a carpenter, is it conceivable that he built the house, or at least the single-story addition?
BARRY: Anything is possible. More likely he participated in converting the smallish house into the present Italianate. He certainly could have put the rear extension on. I don't think the Cady's built the original house, though. I think they likely purchased it in the latter 1860s.
MARK: Do you have any photos of the Cady family at the house?
BARRY: As a matter of fact, I do. Here's a photo of the house from the mid 1880s. George Cady is standing in the yard, and his wife Emma and daughter Mary on the front porch.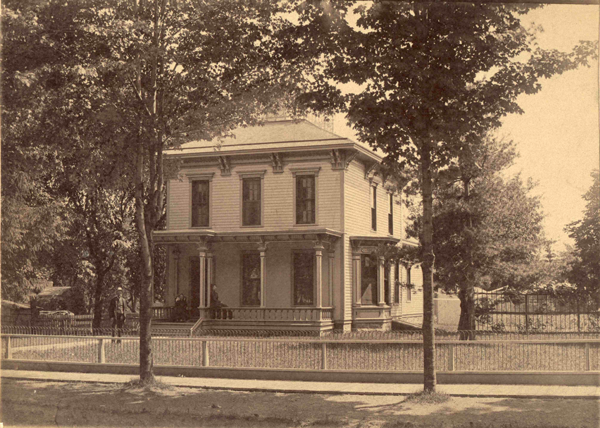 MARK: OK, so the house at 302 Oak Street was built-onto at around 1870, and then the whole house was remodeled in the early 1880s . Have I got that right?
BARRY: That is as accurate as I can conjecture.
MARK: So, back to the wood… Where do you think that it came from originally?
BARRY: Just a guess, but the white pines of northern Michigan were being logged at that time at a furious pace. No thought to reforestation or trying to deal with the soil erosion caused by denuding the virgin landscape. To some extent, by re-using this lumber it helps to atone for the environmental damage done at that time.
MARK: So, just thinking about this a bit, Cady died about four years before the Martha Washington Theatre opened, and about 15 years before our building, at 209 Pearl, was built by the Michigan Bell Telephone Company. And, I guess, it would have been about 9 years after the Ypsilanti Electric Company launched in 1892… I'm just trying to get a sense as to what the town would have been like in 1911… There was a lot of change afoot in Ypsilanti. We had electric lights, but telephones and silent movies were still a little ways off, right?
BARRY: I agree with your contention that it was a time of great change, but I don't know that it's accurate to say that Cady passed before silent films came to Ypsilanti. While the Martha Washington opened in 1915, I believe the Wuerth Theatre on Michigan Avenue had been showing films before then. That was the old Ypsilanti Opera House. I think it had two balconies. The upper one was where the unfortunate black residents of Ypsilanti were required to sit. Wuerth owned a movie theatre on Main Street in Ann Arbor as well. Eventually it was sold to Butterfield.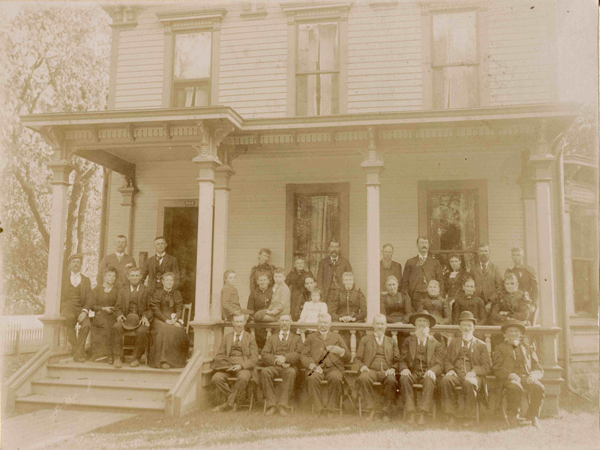 MARK: So, speaking of the building where the Bellflower is, do I understand that you have a familial connection to it?
BARRY: Well, in a way. My grandparents lived at 302 College Place. They bought that house in 1923, did quite a bit of rehab to the house, including a new front porch, hardwood floors, new plumbing, etc. As many of their neighbors in that era did, they rented out rooms to Normal College students, or other single people, mostly women. Some of their "roomers", as they called them, were telephone operators at the Michigan Bell Telephone building on Pearl Street, right behind the Martha Washington Theatre. The lines for the movie theatre went all the way to the front of that building when I used to go downtown when I was a kid.
MARK: Anything else we should know about this wood, the legacy of George Cady, or Depot Town's history as a red light district?
BARRY: Well, I wouldn't say it was ever a red light district. My guess is that, when the first train came through in the late 1830s, Depot Town would have been prosperous. The Follett House, back then, was quite a fashionable hotel, and the neighborhood was morally upright. But things definitely took a turn… As you may know, Ypsilanti was split into two municipalities for a time, with the portion of the City on the east side of the Huron River being named East Ypsilanti. Well, when the folly of that separation was mended, I think Depot Town went into a slow decline, being more of a service area, and less fashionable than the downtown area. I wouldn't call it a red light district, though. But it was, perhaps, just a bit more rough around the edges than what east-siders called "uptown."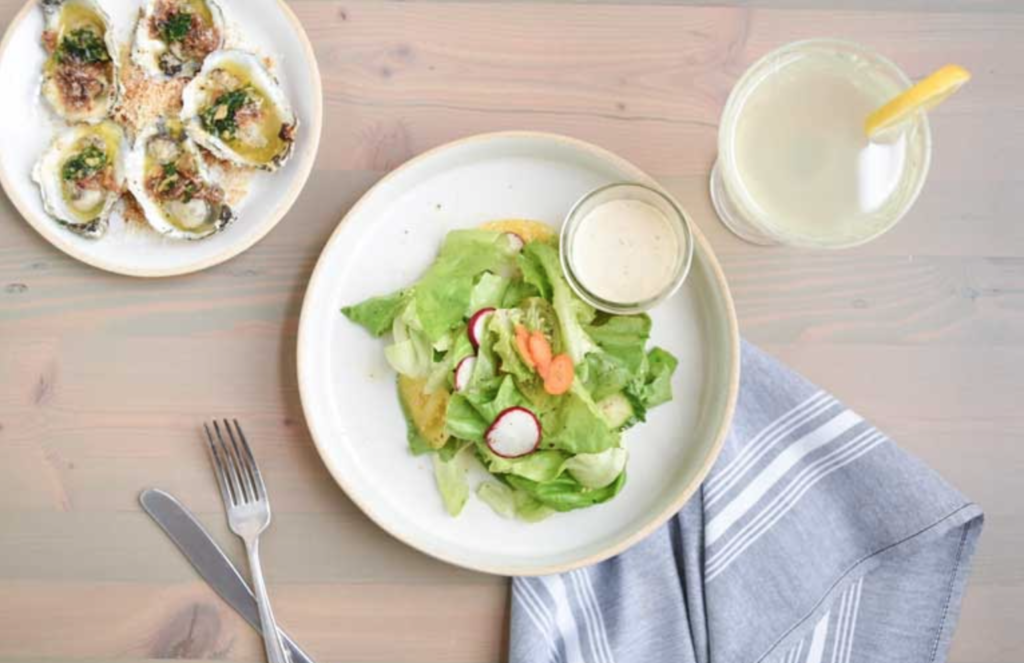 [Above, you can see what the finished tabletops look like today at Bellflower… Mark Maynard is a partner at Ypsilanti's Bellflower restaurant. He also keeps an online journal where he writes, among other things, about Ypsilanti history. If you want to read more of him talking with Barry LaRue about Ypsilanti's past, check out their recent discussion about Highland Cemetary's Starkweather Chapel.]