A few days ago, Lisa Barry, the host of WEMU's Art and Soul, had me on to talk about how things were going at Bellflower. You can hear audio of the segment on the WEMU website. Here, however, is a rough transcript.
LISA: While many Washtenaw County restaurants are struggling and facing challenges due to the current pandemic, there's a brand new restaurant, opened recently in Ypsilanti, that seems to be thriving. To find out what's going on there, we want to welcome the co-owner of Bellflower, Mark Maynard. Mark, how are you doing?
MARK: I'm doing great. How are you, Lisa?
LISA: Let's start with the name of the restaurant, Bellflower. Where did that come from?
MARK: We had a long list (of potential names). Over the course of three years, as you might imagine, we spent a lot of time thinking about what to call this thing. We'd been working on trying to get open since 2017 or so. (And quite a few of our ideas for names) referenced back to the Michigan Bell Telephone Company, which, in 1926, built the building that we're now in. (And the name Bellflower) struck a note for us. It seemed optimistic and forward looking. The symbolism of the flower was interesting to us. Then my wife, who is a graphic designer, began playing around with the visual concept — how we conveyed the (sense of the) restaurant through the logo — and it kind of became this thing, with a flower and a bell, and also a loaf of bread. It all made sense. The flower and the bell look like a loaf of bread cut in half to be shared between two people. It all kind of fell into place, and we all liked it.
LISA: And how would you describe the kind of food that you're offering?
MARK: We're interested in American culinary history. And we're interested in the mashup of flavors that came to our shores from around the world. And our initial inspiration was the Gulf Region. It's a really evident example of the kind of place where that mashup happened, in a way that people appreciate and understand. But we've already started moving beyond that. Definitely the Gulf Region was a jumping-off point. And we're really interested in seafood. So, some of our earlier explorations have been kind of related. There's a lot of oyster on the menu. There's shrimp, and fish, and (other seafood). But that's certainly not keeping us from exploring some other things. We have a kind of Chinese-influenced dish on the menu now. And we've done steaks. (We want to be able to explore) things of interest our chef, and our cooks.
LISA: Who is your chef? And who are the other co-owners of Bellflower Restaurant?
MARK: There are three partners. I'm one. Jesse Kranyak is another. And Dan Klenotic is the third. And Dan is the chef. He's very passionate about what he does, and it makes the job really easy. I mean, all of us on the team… It's a joy every day because what he brings to the kitchen, it just comes through in the food.
LISA: Is there a <a href="http://wurstbarypsi.com/">Wurst Bar</a> connection?
MARK: Yeah, Jesse, one of the co-owners, is also co-owner of the Wurst Bar (here in Ypsi).
LISA: So what is it about this sandwich I keep hearing about? It sells out every day?
MARK: Yeah, I think maybe not every day, but we sell out almost every day. We bake about 100 loaves of bread a day…
LISA: Milk bread, right?
MARK: Yes, it's kind of a Japanese-influenced milk bread that we put our sandwiches on. We bake about 100 loaves a day from scratch, and, when they run out, we have to stop serving them, obviously. And, yeah, probaby 75% or 80% of days we've been selling out. They're kind of po' boys. That's kind of how you would probably best describe them. They're certainly a little bit untraditional in that we're using milk bread. And we're also doing things like… we have a sweet potato stilton (sandwich) and a tofu sandwich. Some of the others are more traditional, like an oyster po' boy, and a shrimp and oyster po' boy, and a shrimp po' boy. But, yeah, they're all on house-made bread, and we make them ourselves, and they're fantastic. People love them, and they've been lining up early — we open at 11:00 — in hopes of getting one. So it's great to see the response from the community.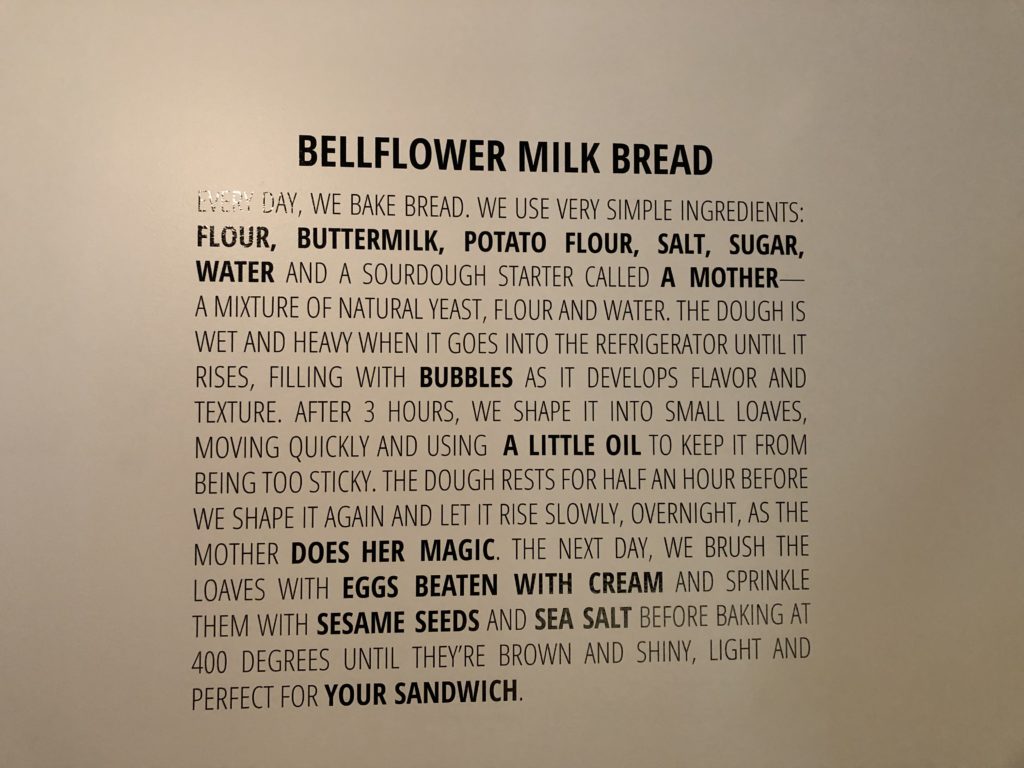 LISA: Cauliflower fritters, I saw, are also on the menu.
MARK: Yes, there's all kinds of good stuff for vegetarians on (the menu). We're all from Ypsi. We all know the community pretty well. And you can't exist in Ypsi if you don't treat vegetarians well.
LISA: And there's also a bar.
MARK: Yup. There's a bar inside. When COVID is over, it will seat about 16 people, so it's pretty good size. We started, last week, having a few people come in and sit at the bar. Up until last week, all of our seating had been outside. We have ten tables outside. But we just started seating people at the bar a few days ago, and we're just doing three small groups there. So, right now, we're just seating about six people at the bar.
LISA: So here's the question that everybody is asking. As I said at the open of this interview, we're in a pandemic. A lot of restaurants are struggling. And it sounds like… you opened Bellflower what, (this past) August, after this was underway? How has that worked out for you?
MARK: With the exception of two days, we've been full every single day. So people apparently like what we're doing. We have an open kitchen, and, as I said, we have a lot of outdoor seating. People, I think, trusted us to handle things responsibly, health-wise. I think it was a good thing that we opened when we did. With that said, we did consider not opening. We had already waited three years to get everything together. But then we talked with all of the people that we'd attracted to join us, and everyone was of the opinion that people still need good food. People still need to feel cared for, and nourished. And we had confidence that, no matter what happened, we could find a way through it. And everyone was of the opinion that they wanted to go ahead and get started. So, that's what we did. And the community responded incredibly well. And we could not be happier. We opened without a website, without a telephone — we were just going to do a soft open — and from that very first day… We've been full almost every day, and the sandwiches have been selling out. The response from the community has been incredible. The quality (of the food) is great, but I think it's more than that. I think it's the spirit of the place… People in Ypsi wanted something like what we're offering, and I think it felt good to have something positive to think about for a change, instead of all the negative stuff that's happening in the world.
LISA: I haven't been able to taste the food yet, but I did peek inside and saw that you have a living wall, a wall of a bunch of different plants?
MARK: One of the nice things about taking three years to work on something is that we had a lot of time. So every inch of the space has been gone over. We've been as thoughtful as human beings possibly can. We all like plants, so there's a plant wall. There's also art from local artists. Upstairs, above the Bellflower, we operate something called Landline Creative Labs. And two of our artists (who have office space) up there, have pieces downstairs; Jason Wright and Yen Azzaro. My wife (Linette Lao), who is a graphic designer, did our logo. This has very much been a community endeavor.
LISA: You said that a lot of your dining has been outdoors. And the weather is definitely starting to turn. Are you feeling confident moving into the colder weather that you'll be able to sustain all of this at Bellflower?
MARK: Yes. (A significant part of our outdoor seating) is semi-enclosed. And we installed gas heaters in that area. We're also going to be introducing some indoor seating over the course of the next few weeks, depending on how cold it gets. You know, we'll play it by ear, following the health guidance that we have. And we'll listen to our customers and our staff, and we'll do what people are comfortable with. And we'll do it as safely as possible. And we'll try to get as much feedback as we can as we move forward. So we'll keep moving in that direction. And, you know, when winter comes, we'll also be doing more retail sales. We're operating a wine shop already. And we have plans for a seafood market as well. So, you know, there's a bunch to look forward to. Join our mailing list to be kept apprised of what we're up to, but we'll certainly find ways to serve the community, regardless of how things go. I mean, either people are eating with us in the space, feeling comfortable doing so, or they'll be buying food from us and taking it home. But it'll be the same quality, and done with the same intentionality, and the same heart.