No matter who wins tomorrow's election, we're all going to need a drink. And your friends at Bellflower are here to help… We've got you.
People talk about the food at Bellflower, and the food is great, but we have an incredibly ambitious bar program as well. Led by James Andrews, the bar at the Bellflower strives, among other things, to put a decidedly midwestern spin on classic cocktails from the Gulf region, using local ingredients and craft spirits made in Michigan. And, as of tomorrow, you're going to be able to enjoy the work of our bartenders at home. Following is my discussion with bartender Ronni Huey about the rollout of our to-go cocktail program, and the first three original, house-made drinks we'll be featuring.
[Order a cocktail now on the Bellflower online store.]
MARK: Earlier this summer, the Michigan legislature passed House Bill 5811, which allowed bars and restaurants in the state to sell to-go cocktails. It's not something we've done so far at Bellflower, though. Why is that?
RONNI: We decided to wait and see how guests responded to our cocktail menu before bottling our drinks to-go. Several house-made ingredients go into our crafty concoctions, so we wanted to make sure that we'd be able to produce enough to fulfill our in-house orders before we thought about selling off-premises. So that was our first priority. And, of course, we wanted to be sure that people liked what we were mixing up. And now that we're two months into operation, we know that people love the drinks. And we're confident that we have the internal capacity to bottle some to-go. We're ready to bottle up!
MARK: This must be weird for someone like you, who has been bartending for a long time here in Michigan. I mean, the idea of selling cocktails to-go wasn't something that anyone thought was possible even last year at this time.
RONNI: Yeah, the idea of selling cocktails to-go is exciting, but it runs contrary to everything us bartenders have ever known here in Michigan. And it raises a lot of questions like, "Which cocktails will withstand travel?", and "How do we package craft cocktails in such a way to give people a special experience at home?" But, It's real, it's happening, and it's going to help keep bars like ours afloat during these strange times that we're living through.
MARK: So, what's the plan? How are we going to roll out to-go cocktails here at Bellflower?
RONNI: Starting on Monday, we'll be introducing three of our more popular cocktails from the current menu in pre-packaged, sealed bottles. Each bottle will contain 2 to 3 cocktails. All they'll require is a little ice and a lot of shake.
MARK: And we'll be making them fresh every day?
RONNI: Yes, and they're meant to be consumed within a day or two of purchase. Our cocktails contain fresh citrus juices, which do have a shelf life. We plan to bottle cocktails the day of sale, so they'll be guaranteed fresh and delicious.
MARK: And what are these first three cocktails?
RONNI: We're starting with some of our original cocktails from the opening menu, which are still our most popular ones. They're each made with Michigan ingredients, and include several of our handcrafted touches. They're also some of our most sustainable cocktails to serve in a to-go format. They are; The Maynard, the Ypsi Local Honey, and the Northern Hurricane.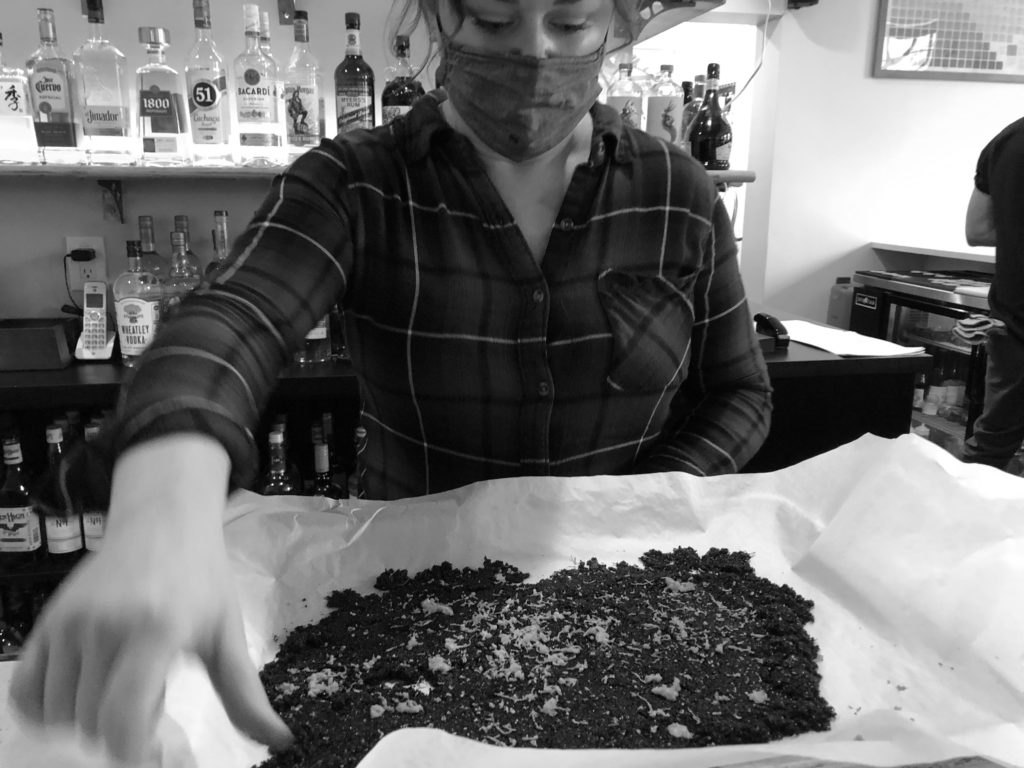 MARK: OK, so what can you tell us about these Bellflower originals?
RONNI: Like most craft cocktails, ours were inspired by classic drinks. Our first menu rollout from Chef Dan drew heavily from New Orleans, Gulf Coast, Caribbean, and French influences, so these drinks reflect that. Credit for these original drinks belongs to Bellflower co-owner Jesse Kranyak, who came up with these drinks before our bar team was even assembled, and way before Bellflower opened its doors. They have easily become fast favorites among our guests.
We've got our fantastic Ypsi Local Honey, featuring Arbor Distilling's Gin, Michigan honey, fresh lemon, and a house-made lavender syrup. It's a floral cocktail, with a balance of acidity from the lemon, a nice earthy, woody sting from the honey, and botanical brightness from the gin. It's a perfect drink for a sunny fall day outside.
The Northern Hurricane is a playful homage to the classic Hurricane, the New Orleans staple that people might be familiar with. Our version uses New Holland Freshwater Rum, Cane Run Rum, pomegranate, lemon, and pineapple. It's tart, rich with juicy flavors, and really packs a nice punch. When shaken, the juices create a luscious froth. This would be a fun drink to take to a small gathering of friends, shake up, and pretend to be somewhere tropical.
And, for our tequila drinkers out there, we've got The Maynard. It's a fantastic blend of fresh lime, pomegranate, Gran Gala orange liqueur, and Corazon tequila. It's more than a margarita. The fresh juices provide a bright and tart fruitiness, while the Gran Gala adds a lush sweetness and viscosity.
MARK: It's always a bit surreal to hear "The Maynard" ordered. Walking by a table a few days ago, I heard a woman say, "And my friends will be sharing The Maynard." I was honored when Jesse told me that he wanted to name a drink after me, but it hadn't occurred to me how uncomfortable it would make me.
RONNI: I suspect Jesse knew exactly how uncomfortable that it would make you, and that's why he did it. You own it, though, Mark! Work it!
MARK: Yeah, I'll work on that… Well, it seems like, between those three drinks, we've covered quite a few bases.
RONNI: That was the intention. We wanted to make sure we would have something for everyone.
MARK: And we'll just have all of these drinks in our bar cooler and ready to go for people when they want them?
RONNI: Yes. I should add that they'll be of different sizes, with the Northern Hurricane being the biggest at 16oz, making three drinks, and the Ypsi Local Honey being the smallest at 8oz, making two drinks. The Maynard is 12oz, making three.
MARK: What about ordering in advance online? Is that something we'll be doing? Can people order these the same way they can order bottles of wine right now, setting up times for contactless pickup, etc.?
RONNI: Yes, if people visit our website, and go to the store, they can reserve a drink, and set a time to come by and pick it up. We'll also keep a few in the cooler for people who just want to come by and grab one earlier in the day with their lunch order.
MARK: So what's in the future for our cocktail program?
RONNI: We'll continue to work with Chef Dan to pair our cocktails with his amazing food. The thoughtful, scratch-made quality of his work is an inspiration to everyone on the team. And our plan is to utilize the fresh local ingredients that we get delivered to our door daily.
MARK: One last thing. When you're not here, working on the Bellflower team, you've got a cocktail business of your own, right? What's it called, and how can people find out more about it?
RONNI: Yes! It's called The Swig Mobile Bar. My best friend and coworker at Bellflower, Cory, and I started this business during quarantine. It's a mobile cocktail bar on wheels. We serve from our renovated 6×10 utility trailer, which we turned into a chic lounge that holds our handmade portable bar. The Swig caters to weddings, corporate events, backyard barbecues, or casual happy hour gatherings. We create a curated cocktail menu that's customized to each event or party, using handcraft ingredients. Basically, we bring a premium bar experience to you! Cory designs beautiful chalkboard menus that hang from the open doors of the trailer, where guests can come up and order their drinks. Picture a really cute food truck, except we serve craft cocktails.
MARK: How was it that you and Cory decided to do this?
RONNI: The idea for The Swig is a result of countless wine drinking nights, which turned into brainstorming sessions. Cory started a business a few years ago called Full Circle Resale. It's a mobile boutique featuring high end and vintage resale clothing and accessories. She bought a small utility trailer that functioned as a dressing room, and she'd bring her curated collection of clothing to local markets like Finder's Keepers and Lavender Lane. I would often tag along. Then Full Circle started to do pop-ups at Brick & Mortar in Depot Town and Pearl Street Studios, a gorgeous photography studio space. That's when the idea hatched to do "sip & shops". We started having wine, beer, and light snacks available to our shoppers.
MARK: And all of that was pre-COVID?
RONNI: Right. When COVID hit, the markets stopped, and the business came to a halt. That's when these brainstorming sessions started happening, and we thought, "What if we brought the trailer to people's houses and hosted a sip & shop?" Then we thought, "Maybe cocktails would be a fun addition." That's when it hit us; "Let's do a mobile bar. "
Since then, we've served at small weddings, fundraisers, grand opening events, and birthday parties. And, right now, we're booking events for 2021.
MARK: From what I've seen here at Bellflower, you and Cory seem to work really well together. I imagine you'd make a great team in that kind of environment.
RONNI: We've both been in the service industry for many years. Bartending is both a career and a passion of mine. Cory is a phenomenal painter, with an artist's eye for design. Together we make a great team. We fully believe that our little quarantine project can grow into something big, and we're genuinely stoked to offer a glimmer of joy to people's lives during this time.